Bahar announces winners of the 1st raffle draw of the 40th anniversary promotion.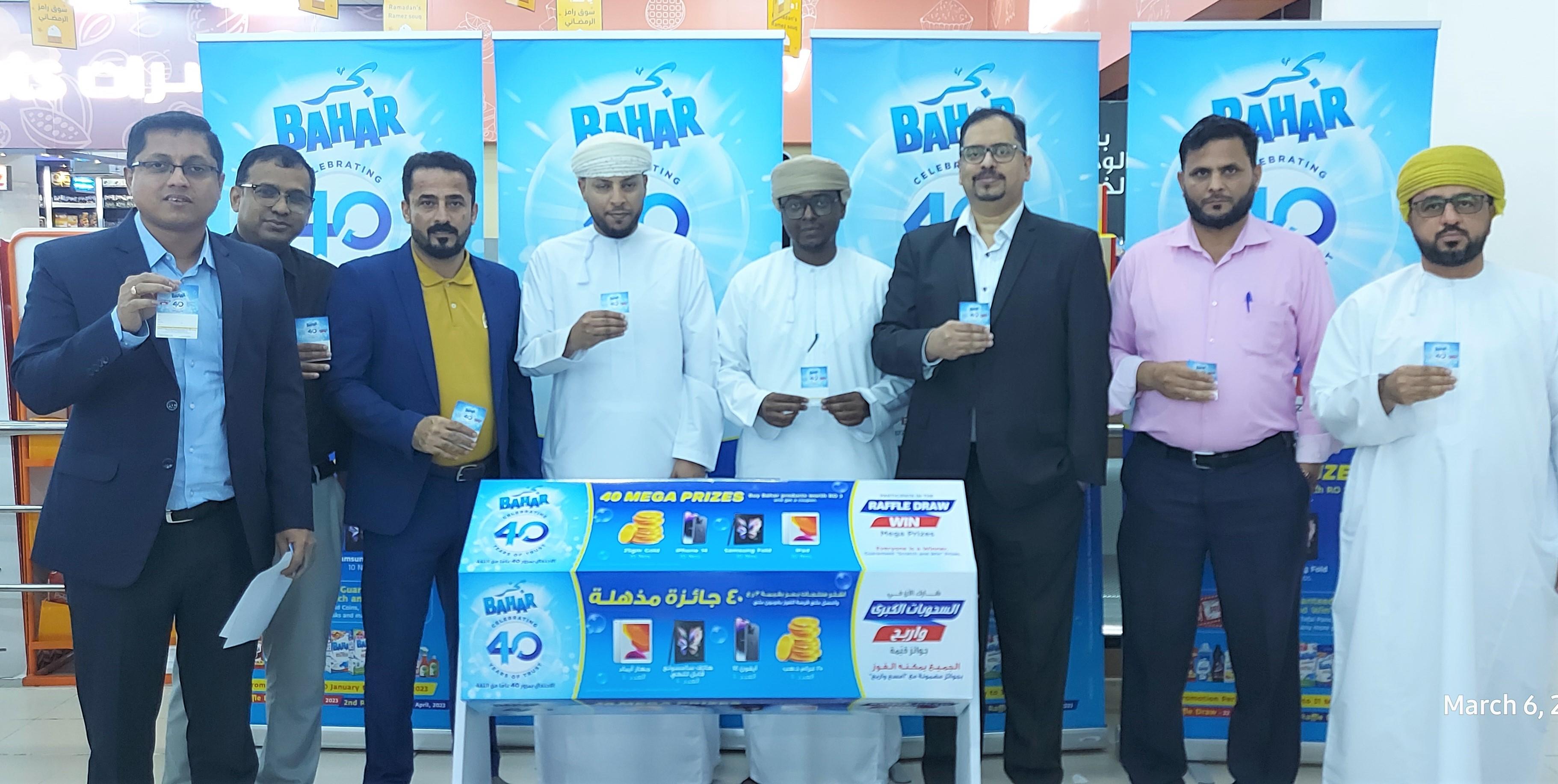 April 05, 2023
Bahar, National Detergent Company's flagship brand, which marked its glorious 40th anniversary with a promotional campaign titled 'Celebrating 40 years of Trust - Everyone is a Winner', has announced names of the 16 lucky winners of its first raffle draw during the draw conducted in Ramez hypermarket, Seeb.
The draw was held recently at its head office to pick four winners each for iPad, iPhone 14, Samsung Galaxy Fold and 25 grams gold coins. As per the final list, Dawood Suleiman, Nazar, Juma Rashid and Nasna are the winners of 25 grams gold coins each; AlHassan Ali Al Busaidi, Abdulla Suleiman, Najeeb and Ayoob are the winners of iPhone 14; Shabna, Niyas, Sumith and Nadia are the winners of Samsung Galaxy Fold and Hamed Al Busaidi, Nassen, Mariam and Fouziya Salem are the winners of iPads.
The promotional campaign, which will run until March 31st, is designed to ensure that everyone is, literally, a winner with a 'scratch and win' coupon that guarantees a host of exciting prizes - ranging from one gram gold coins and pans from Tefal to flasks from Zojirushi brand, in addition to a host of others - to every customer that buys Bahar products. Designed to celebrate 40 years with 40 mega winners, the campaign will follow up the first raffle draw with a second one following the conclusion of the campaign period.
Congratulating the winners of the first draw, Anish Kumar, Head of Sales & Marketing said, "We are overwhelmed by the response our campaign generated in the market and the positive feedback we received from the customers. It is heartening to see our customers appreciate the opportunity to win prizes by simply scratching the campaign coupons. This has been a gratifying experience for Bahar too, as it provided us a platform to express our gratitude to our customers from all walks of life. The very promise behind the campaign was to enhance our customers' buying experience and, literally say 'thank you' for patronizing our products over the last forty years."
As the best regional supplier of branded home and personal care products in the Middle East, NDC believes in giving best value for money to customers. Bahar, a household name in the Sultanate, brings this legacy to customers through its ever-growing range of products. A 100 percent Omani brand, it has a clear understanding of the local markets and continues to expand its products and services to cater to consumers who have stayed loyal to the brand over the years.